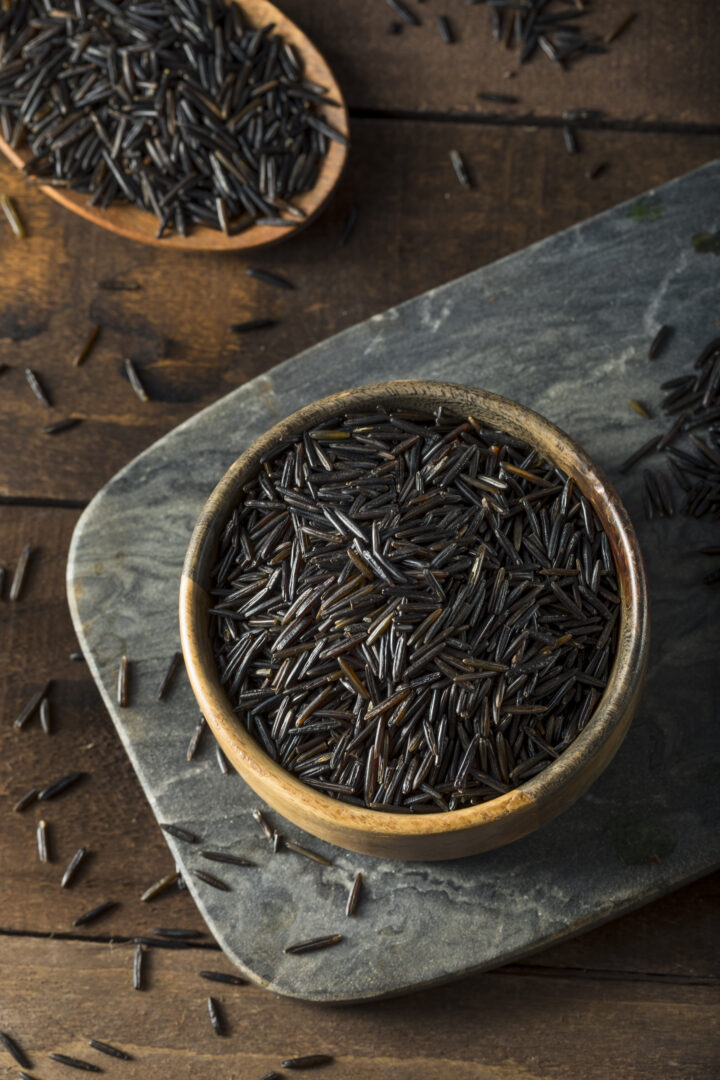 Wild Rice
Riviana is the world's largest marketer of wild rice, offering just the right grain for your desired application. Wild Rice is the only grain native to North America, and is the seed of a plume-topped aquatic grass found mainly in Minnesota, California and Canada.
This whole grain is often combined with other types of rice or grain to create attractive blends. With a distinctive color, an enticing smoky and nutty flavor and slightly chewy yet tender texture, wild rice has long been a favorite of those who enjoy gourmet cuisine. This rice is also known as "Canada rice".
Riviana carries a wide range of Wild Rice types which vary between flavors, textures, colors and cook length. With so many different types out there, there's a Wild Rice variety for everyone!
Our ingredients are the perfect base for your meal creation
Grade A Wild Rice
Wild Rice is also known as the "Caviar of Grains," and features a unique roasted, smoky and nutty flavor. Our Grade A Wild Rice cooks in 50-60 minutes and ranges from dark brown to black in color with each granule holding a glossy sheen.
Grade B Wild Rice
Also ranging from dark brown to black in color, this wild rice is our most versatile grade. It cooks in 30-40 minutes and makes an excellent side dish when paired with wild game, duck, pheasant, pork and seafood⁠ – especially salmon.
Grade B Scarified Wild Rice
Our scarified rice cooks rapidly in just 20-25 minutes. This variety ranges from dark brown to black in color, and features visible hairline scratches on the bran layer which allow it to absorb water more readily.
Grade C Wild Rice
This premium wild rice is the most tender of all grades and cooks in just 20 minutes. The color of this grain ranges from light brown to brown. Like all wild rice, it is well known for being highly nutritious as it is high in potassium and phosphorus and free of sodium, fat and cholesterol.
Cracked Wild Rice
Our cracked, or broken, wild rice cooks quickly and is done in 20 minutes. This rice includes a mixture of different grades and is light to dark brown in color. Like all of our wild rice, it pairs excellently with mushrooms, cranberries, apricots, nuts and honey.
Quick-Cooking Wild Rice WR-107
Our precooked and dehydrated rice retains its excellent texture and uniformity while cooking in just 5-10 minutes. This quick cooking rice is dark brown in color and, like all of our wild rice varieties, is perfect for use in soups, salads, stuffings and dressings.
Canadian Lake & River
This unique black rice is naturally grown in Canada's lakes and rivers. It ranges from dark brown to charcoal in color, has a long, slender kernel and cooks in 60-70 minutes.
Organic Wild Rice
Choose our Organic USDA Certified wild rice for any application. These grains are grown and processed under the most rigurous procedures in the industry.
Long Grain White and Wild Rice Blend
This long grain white rice and wild rice medley presents a consistent standard of parboiled rice and wild rice. Gourmet appeal with textural contrast for a variety of applications.
Whole Grain 5 Blend™
Long-grain parboiled brown rice, grano, Colusari™ Red Rice, and sprouted brown rice are combined with wild rice for a versatile whole-grain blend with visual appeal to match!
Kansas Medley™ Blend
This medley delivers menu success with its appearance and great holding capacity. It consists of parboiled long-grain rice, wheat berries and wild rice.
Non-GMO Wild Blend Rice
Made with a wholesome wild rice, this blend is Non-GMO Project Verified in order to provide the best quality ingredients for a wide variety of applications.
Ruby Wild Blend™
Long-grain brown rice, sprouted brown rice, Colusari™ Red Rice, sprouted red rice and wild rice are combined to create a blend that is great-tasting, gluten-free, whole-grain and is a workhorse in the kitchen with its terrific holding ability and versatility.
Brown and Wild Medley Blend
Brown and Wild Medley features a combination of parboiled brown rice and wild rice. Enjoy the nutritional content of this whole grain medley. Ideal for a variety of applications to meet your needs.
Request a sample
Let us help you find the perfect ingredients for your business.
There's no better way to experience our full line of rice than to taste it. Request a sample and our knowledgeable team can help you discover the perfect rice for any application.